Dr. Haroun Ayech
+49 (0) 151 42 22 11 42
Dr. Haroun Ayech
Vorsitzender des Vorstands
Neuenkamperstrasse 163
42657 Solingen
mail@bettina-heinen-ayech-foundation.com
www.bettina-heinen-ayech-foundation.com
+49 (0) 151 42 22 11 42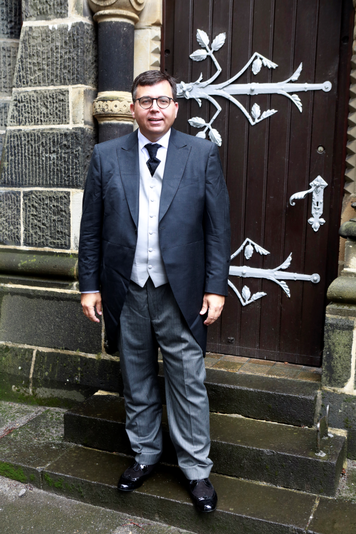 ---
All rights reserved, in particular the right of reproduction, distribution and translation. No texts or depicted documents, works, paintings and photographs may be reproduced in any form (by digital copying, photographing, photocopying, microfilm or any other process) or stored, processed, duplicated or processed using electronic systems without the written permission of the copyright holders. The information on this homepage has been checked by the authors to the best of their knowledge and belief. A guarantee for correctness cannot be given. Any liability of the authors or the commissioning person for personal injury, property damage or financial loss is excluded.
Alle Rechte, insbesondere das Recht der Vervielfältigung und Verbreitung sowie der Übersetzung, sind vorbehalten. Keine Texte oder abgebildete Dokumente, Werke, Gemälde und Fotos darf in irgendeiner Form (durch digitales Kopieren, abfotografieren, Fotokopie, Mikrofilm oder ein anderes Verfahren) ohne schriftliche Genehmigung der Inhaber der Urheberrechte reproduziert oder unter Verwendung elektronischer Systeme gespeichert, verarbeitet, vervielfältigt oder verarbeitet werden. Die Angaben auf dieser Homepage wurden von den Verfassern nach besten Wissen und Gewissen geprüft. Eine Garantie für Richtigkeit kann nicht übernommen werden. Eine Haftung der Verfasser beziehungsweise der beauftragenden Person für Personen-, Sach- und Vermögensschäden ist ausgeschlossen.
---
Our offer contains links to external websites of third parties, the content of which we have no influence on. For this reason, we cannot accept any liability for this external content. The respective provider or operator of the pages is always responsible for the content of the linked pages. The linked pages were checked for possible legal violations at the time of linking. No illegal content was discernible at the time the link was created. A permanent control of the content of the linked pages is not reasonable without concrete evidence of an infringement. As soon as we become aware of legal violations, we will remove such links immediately.
Unser Angebot enthält Links zu externen Webseiten Dritter, auf deren Inhalte wir keinen Einfluss haben. Deshalb können wir für diese fremden Inhalte auch keine Gewähr übernehmen. Für die Inhalte der verlinkten Seiten ist stets der jeweilige Anbieter oder Betreiber der Seiten verantwortlich. Die verlinkten Seiten wurden zum Zeitpunkt der Verlinkung auf mögliche Rechtsverstöße überprüft. Rechtswidrige Inhalte waren zum Zeitpunkt der Verlinkung nicht erkennbar. Eine permanente inhaltliche Kontrolle der verlinkten Seiten ist jedoch ohne konkrete Anhaltspunkte einer Rechtsverletzung nicht zumutbar. Bei Bekanntwerden von Rechtsverletzungen werden wir derartige Links umgehend entfernen.
---
As a service provider, we are responsible for our own content on these pages in accordance with general laws in accordance with Section 7 (1) TMG. According to §§ 8 to 10 TMG, we as a service provider are not obliged to monitor transmitted or stored third-party information or to search for circumstances that indicate illegal activity. Obligations to remove or block the use of information according to general laws remain unaffected. However, liability in this regard is only possible from the time we become aware of a specific legal violation. As soon as we become aware of such violations, we will remove this content immediately.
Als Diensteanbieter sind wir gemäß § 7 Abs.1 TMG für eigene Inhalte auf diesen Seiten nach den allgemeinen Gesetzen verantwortlich. Nach §§ 8 bis 10 TMG sind wir als Diensteanbieter jedoch nicht verpflichtet, übermittelte oder gespeicherte fremde Informationen zu überwachen oder nach Umständen zu forschen, die auf eine rechtswidrige Tätigkeit hinweisen. Verpflichtungen zur Entfernung oder Sperrung der Nutzung von Informationen nach den allgemeinen Gesetzen bleiben hiervon unberührt. Eine diesbezügliche Haftung ist jedoch erst ab dem Zeitpunkt der Kenntnis einer konkreten Rechtsverletzung möglich. Bei Bekanntwerden von entsprechenden Rechtsverletzungen werden wir diese Inhalte umgehend entfernen.
---
All texts on this homepage are protected by copyright. Any use of the texts or excerpts thereof as well as illustrations, especially by copying or distribution, is not permitted without prior written consent and is punishable by law, unless otherwise stipulated by copyright law. In particular, storage or distribution in database systems is not permitted without the consent of the copyright holder. If you would like to print texts or images from this homepage or incorporate them into your webpage, you can acquire the necessary rights from Munich Art Management at www.munich-art-management.com.

Translated with www.DeepL.com/Translator (free version)
The content, works and photos and reproductions on these pages created by the site operator are subject to German copyright law. All texts and images on these pages are protected by copyright and may not be used without the permission of the authors and legal successors. The copyright lies with the respective author or legal successor.

Duplication, editing, distribution and any kind of use beyond the limits of copyright law require the written consent of the respective author or creator. Downloads and copies of this page are only permitted for private, non-commercial use. As far as the content on this page was not created by the operator, the copyrights of third parties are respected. In particular contents of third parties are marked as such.


All photos and repros used on this page (created by Mr Uli Preuss, Ms Daniela Tobias, Mr Christian Baierl, Mr Ralph Hedstück, Dr Dietmar Elke, Ms Karin Bufe, Ms Maria Hennl, Ms Diana Millies and Dr Haroun Ayech) come from the photo archive of the Bettina Heinen-Ayech Foundation, Foundation for Art, Culture and International Dialogue. Use is only permitted with the written permission of Dr. Ayech possible.


Should you become aware of a copyright infringement, please let us know. As soon as we become aware of legal violations, we will remove such content immediately.
Alle Texte dieser Homepage sind urheberrechtlich geschützt. Eine Verwertung der Texte oder Auszüge hiervon sowie Abbildungen, besonders durch Vervielfältigung oder Verbreitung, ist ohne vorherige schriftliche Zustimmung unzulässig und strafbar, soweit sich aus dem Urhebergesetz nicht anderes ergibt. Besonders ist eine Einspeicherung oder Verbreitung in Datenbanksystemen, ohne Zustimmung des Inhabers der Urheberrechte unzulässig. Sofern Sie Texte oder Abbildungen dieser Homepage abdrucken, in Ihre webpage übernehmen möchten, können Sie die erforderlichen Rechte bei Munich Art Management unter www.munich-art-management.com erwerben.
Die durch die Seitenbetreiber erstellten Inhalte, Werke und Photos sowie Repros auf diesen Seiten unterliegen dem deutschen Urheberrecht. Sämtliche Texte und Bilder auf diesen Seiten sind urheberrechtlich geschützt und dürfen nicht ohne Genehmigung der Autoren und Rechtsnachfolger genutzt werden. Die Urheberrechte liegen beim jeweiligen Autor bzw. Rechtsnachfolger.
Die Vervielfältigung, Bearbeitung, Verbreitung und jede Art der Verwertung außerhalb der Grenzen des Urheberrechtes bedürfen der schriftlichen Zustimmung des jeweiligen Autors bzw. Erstellers. Downloads und Kopien dieser Seite sind nur für den privaten, nicht kommerziellen Gebrauch gestattet. Soweit die Inhalte auf dieser Seite nicht vom Betreiber erstellt wurden, werden die Urheberrechte Dritter beachtet. Insbesondere werden Inhalte Dritter als solche gekennzeichnet.
Alle auf dieser Seite verwendeten Photos und Repros (erstellt von Herrn Uli Preuss, Frau Daniela Tobias, Herrn Christian Baierl, Herrn Ralph Hedstück, Herrn Dr. Dietmar Elke, Frau Karin Bufe, Frau Maria Hennl, Frau Diana Millies und Herrn Dr. Haroun Ayech) stammen aus dem Photoarchiv der Bettina Heinen-Ayech Foundation, Stiftung für Kunst, Kultur und internationalen Dialog. Eine Nutzung ist ausschließlich mit der schriftlichen Erlaubnis von Dr. Ayech möglich.
Sollten Sie auf eine Urheberrechtsverletzung aufmerksam werden, bitten wir um einen entsprechenden Hinweis. Bei Bekanntwerden von Rechtsverletzungen werden wir derartige Inhalte umgehend entfernen.
---
marketingspirit :: Thomas Hufnagel
Sudetenstraße 17 :: 82166 Gräfelfing
info@marketingspirit.de :: www.marketingspirit.de
---
The web pages of the homepage www.bettina-heinen-ayech.com, their structure and all functionalities, information, data, texts, image and sound materials contained therein as well as all components used for the functionality of these web pages are subject to the legally protected copyright of Dr. Haroun Ayech or third parties who have granted Dr. Ayech the right to publish. The visitor of this online offer may only use the contents within the framework of the offered functionalities of the web pages for his personal use; he does not acquire any rights to the contents and programmes. However, the contents of Mr. Ayech's press release may be downloaded for publication by journalists and published and reproduced for press purposes. If the contents are reproduced, the copyright and ownership rights of the respective copyright holders must be expressly pointed out. Violation of these provisions obliges the immediate destruction of all printed or stored content. Dr. Ayech reserves the right to assert claims for damages.
Die Webseiten der Homepage www.bettina-heinen-ayech.com, ihre Struktur und sämtliche darin enthaltenen Funktionalitäten, Informationen, Daten, Texte, Bild- und Tonmaterialien sowie alle zur Funktionalität dieser Webseiten eingesetzten Komponenten unterliegen dem gesetzlich geschützten Urheberrecht von Herrn Dr. Haroun Ayech oder Dritter, die Herrn Dr. Ayech das Recht zur Veröffentlichung gewährt haben. Der Besucher dieses Online-Angebotes darf die Inhalte nur im Rahmen der angebotenen Funktionalitäten der Webseiten für seinen persönlichen Gebrauch nutzen, er erwirbt keinerlei Rechte an den Inhalten und Programmen. Die Inhalte des Pressemitteilungen von Herr Ayech dürfen jedoch zur Veröffentlichung von Journalisten heruntergeladen und zu Pressezwecken veröffentlicht und wiedergegeben werden. Bei Vervielfältigung der Inhalte sind auf die Urheber- und Eigentumsrechte der entsprechenden Inhaber der Urheberrechte ausdrücklich hinzuweisen. Ein Verstoß gegen diese Bestimmungen verpflichtet zur sofortigen Vernichtung aller ausgedruckten oder gespeicherten Inhalte. Die Geltendmachung von Schadensersatzansprüchen bleibt Herrn Dr. Ayech vorbehalten.